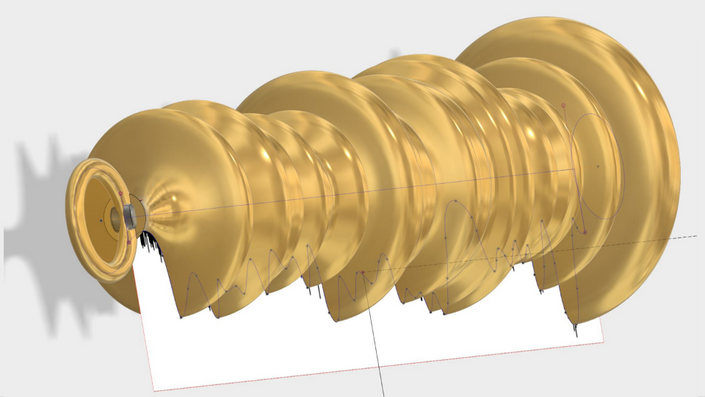 Fusion 360 Full Course (pre-2020)
A full course on professional-grade (but free/low cost) solid modeling software that is changing the world.
Watch Promo
Please NOTE: There is a NEW version of this class. If you purchase the updated version of this class, you will receive this class for free as well!

Please head on over to the new class page by clicking here, thank you!
Come join the hundreds of people who supported our Meshmixer online training Kickstarter with our next flagship course on Autodesk Fusion 360! While Meshmixer is part of the 3D modeling workflow (dealing with more organic models), Autodesk Fusion 360 can be used to model the next great gadget, sculpt a beautiful artwork, and generally help you in your modeling life.
This is an online, self-paced course that has over 15 hours of instruction, including a thorough reference section that gives short videos on every feature inside of Fusion 360. Get stuck on how to use the Revolve tool?...look it up in the reference sections and get back on your way! Want to learn strategies for how to approach design in Fusion 360 in the first place, we've got that too!
Autodesk Fusion360 is a "solid modeling" tool, and offers tremendous capabilities to those who know how to use it:
Create models that manufacturers around the world know how to build.

Run simulations on your models to see how they will react to real-world stresses...before you ever go into production!
Create models driven by parameters...work on a model for a few hours, and go "back in time" to change one variable, and your model instantly updates with your new design choice!
Create photo-realistic renderings and moving animations of your models to help people understand your product.
Fusion 360 can do all of this and more. Come join this class and take control of the physical objects in your life. If something around your house breaks, you can fix it. If you want to make your environment more beautiful, do it. Fusion360 (with 3D printing) can change your life. HoneyPoint3D training can help. Join us!
(Please note: we do NOT cover the HSM/CAM/Milling toolpath generation Fusion 360 workspace in any depth in this course. That is a more specialized topic that we are evaluating for a standalone course)
Your Instructor
Nick has earned the respect of his colleagues through hard work, dedication and vision through his 15+ years in the high-tech industry. Graduating from UC Santa Barbara with an English Major, he was hired into Sun Microsystems during the dotcom boom, and has held a number of technical roles at Sun, and more recently, at Oracle translating complex technical architectures into understandable ideas. Nick's skills go deep into both the technical understanding of the industry and the mechanics of 3D printing, and how this industry has the capability to inspire the world for the better. Nick co-founded "HoneyPoint3D" in 2013 with his wife, Liza. HoneyPoint3D offers classes for all skill and age levels, rapid prototyping, 3D Modeling, Scanning and Printing Services. Considered a 3D Printing retail expert, Nick has been interviewed on CNN, RT Television, San Francisco Business Times, KGO, most of the Bay Area newspapers and many more.
Nick is one of the co-authors of the #1 best selling 3D printing book on Amazon, entitled "Getting Started with 3D Printing" published in 2016 by MAKE Media.
Make sure you click on the small arrow at the bottom of the Curriculum, below, to see ALL the lessons...over 15 hours worth of content!
Course Curriculum
Introduction to Fusion 360
Available in days
days after you enroll
IMPORTANT SECTION: How to navigate the course
Available in days
days after you enroll
Fusion 360 Framework - How It works (OVERVIEW)
Available in days
days after you enroll
Frequently Asked Questions
How much does the Fusion360 software cost?
Fusion360 is, for the most part, FREE!* * Fusion360 is free for personal use, and free for commercial use until you make over $100K in your business. Once you exceed that threshold, Fusion360 is only around $25/month per license (allowing use on unlimited computers).
Why should I pay for this training when the software itself is free?
Good question! This is the age-old "time vs money" dynamic. The step by step walk-throughs and comprehensive reference videos will save you hours of time getting up to speed. If that time savings is worth it to you, then great!
What computers run Fusion360?
Fusion 360 runs on Windows and Mac. Additionally, for you Mac users, Fusion360 is one of the only (if not THE only) professional level CAD software available on the Mac operating system (via the Apple App Store or through direct download from Autodesk).
Is the course timed?
This course is completely self-paced, you decide when to start a class, and can replay the class as many times as you want.